(eLivingtoday.com) Just because the temperatures cool doesn't mean the amount of time and attention you spend on your outdoor spaces should. Fall is the perfect time to add seasonal touches and decorations to the exterior of your home that not only improve curb appeal, but also amplify your personal style.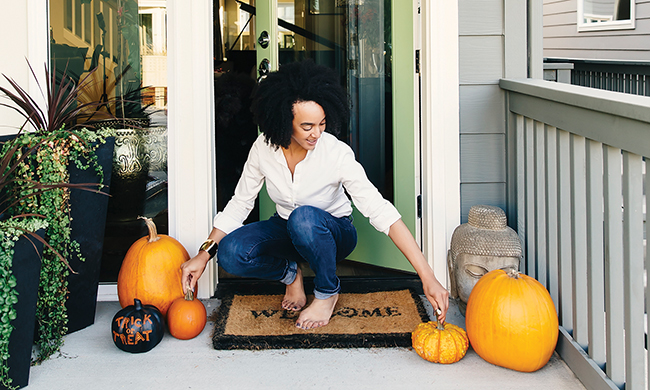 Consider these seasonal ideas for decorating your patios, porches and backyards.
Use Bold Autumn Colors
Orange is a go-to fall color, but other seasonal shades, such as burgundy, can be incorporated to complement those orangey tones of pumpkins. Think blankets, throw pillows, mums and faux leaves as accent items that can add fall hues to your home.
Plant Autumn Varietals
Potted plants are one of the quintessential elements of outdoor decor, and taking advantage of your favorite fall blooming plants – Nippon daisies, Oriental lilies, chrysanthemum and helenium, for example – can add seasonal greenery and fiery tones to your garden or planters.
Bring the Indoors Out
You can create beautifully designed spaces that you'll enjoy year-round by bringing the indoors outside. Coffee tables, weather-proof area rugs, throw pillows, hanging lighting and wicker furniture can be staples of fall outdoor living spaces that provide the same cozy feel as your living room.
Warm Up with a Fire Pit
Calming and on-trend, creating a DIY firepit – either in a safe spot in your yard or simply on a tabletop – using concrete blocks, a ceramic pot or copper bowl and some logs can serve as a perfect gathering place for fall nights.
String Some Lights Around Your Space
If you have an outdoor space that could use some ambience, a string or two of clear party lights or strategically hung lanterns can improve the look and feel of your patio or yard. Of course, you can also opt to light candles or repurpose leftover outdoor torches.
Welcome Guests with a Personalized Doormat
Adding a personalized, seasonal welcome mat can add some personality to your porch as a simple way to supplement function with a touch of style. With a range of options typically available, swapping it out seasonally can keep your front door fresh.
Hang a Leafy Wreath
While lush green wreaths work many months out of the year, autumn is an opportunity to string together red, orange and gold hues that can often be found in yards as well. Simply pick up some faux leaves at a craft store – or pick them up from your yard for an even more natural look – and attach to a wooden or metal wreath frame then hang with some fall-themed ribbon or rustic twine.
Find more ideas for decorating your home at eLivingtoday.com .
SOURCE:
eLivingtoday.com