From Site Selection magazine, September 2019
Logistics Park Expedites Midwest Supply Chains
NorthPoint teams up with JLL, CSX and BNSF to deliver an industrial game changer.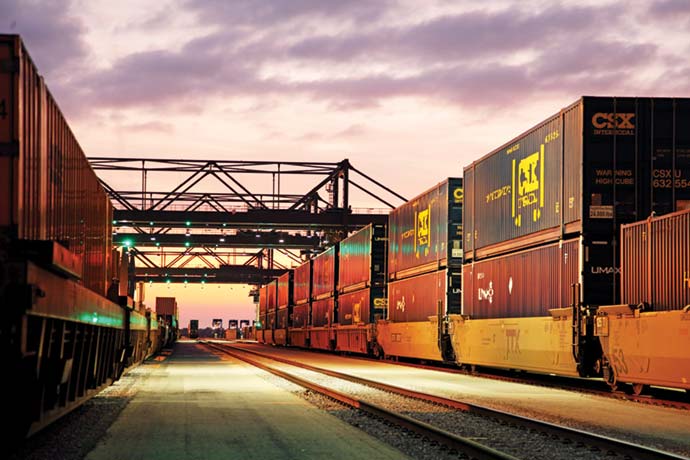 What happens when you take a $250 million capital investment, combine it with 2,000 proposed jobs and place it right next to one of the most important intermodal rail terminals in the continental United States?
You get Logistics Park Ohio, the brainchild of NorthPoint Development, in North Baltimore, Ohio, just off I-75 about 20 minutes north of Findlay and 40 minutes south of Toledo.
Immediately adjacent to the CSX Northwest Ohio Intermodal Terminal that opened eight years ago, LPO is a master-planned logistics park that could accommodate upward of 4.1 million sq. ft. of industrial space. Together with partner JLL, NorthPoint is planning to do for Northwest Ohio what it's already accomplished in Kansas City and Dallas-Fort Worth: Build a logistics hub that is a potential game-changer for industrial supply chains in the Greater Midwest.
"The trigger for us is the new agreement between BNSF and CSX to allow West Coast cargo to flow straight through Chicago without the big interchange in Chicago causing a two-to-three-day delay," says Chad Meyer, president and chief operating officer of NorthPoint Development. "It adds a lot of efficiency from a time and cost perspective. With additional capacity in a container yard to handle more containers, we are constructing a heavy haul corridor to allow users to take intermodal loads that have more weight than what would be allowed on regular roads. They won't have to break down their loads before bringing them into the warehouse. That delivers a huge cost avoidance to the end user."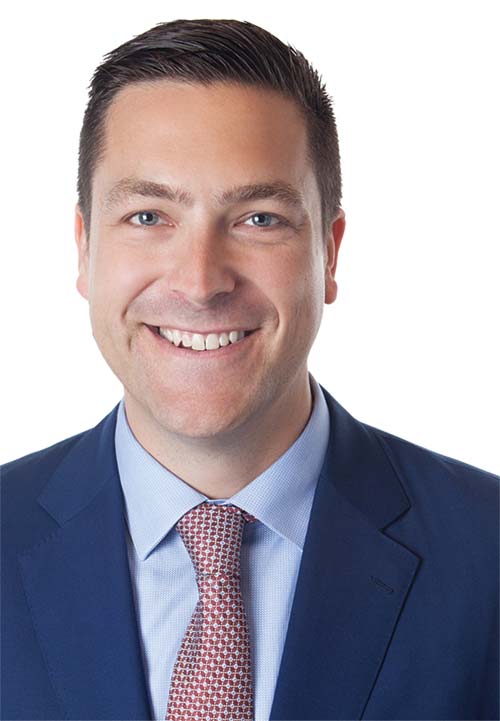 ---
"By being adjacent to the intermodal terminal, tenants can now go directly from the Port of Long Beach on the West Coast to North Baltimore, Ohio, and bypass Chicago."
---
Gary Thompson, executive vice president of the Regional Growth Partnership of Northwest Ohio, says the LPO project has the potential to transform the industrial landscape of the entire Greater Toledo region. "The scale of this project is massive," he says. "It could grow to be hundreds of acres and thousands of jobs and hundreds of millions of dollars in capital investment. Secondly, it will ultimately help by offering businesses in the region a better supply chain network. Thirdly, it is going to be a quality project. It is being led by a top-notch developer in NorthPoint, with great partners in BNSF and CSX. Finally, it reinforces Northwest Ohio as a great logistical center on the world stage."
Dan Wendorf, managing director of JLL, is responsible for attracting new users to the industrial park and putting together "deal structures that allow users to be successful," he says. "By being adjacent to the intermodal terminal, tenants can now go directly from the Port of Long Beach on the West Coast to North Baltimore, Ohio, and bypass Chicago. Also, from here, you can reach 55% of the U.S. population within a one-day truck drive."
The project is strategically located on CSX's mainline between Chicago and the Northeast, with about 30 million consumers located within a 200-mile radius. Situated on 500 acres in North Baltimore, the intermodal terminal offers 700,000 lift capacity and seven wide-span cranes to serve the local market. LPO is adjacent to that facility and will feature a CTPAT Compliant Heavy Haul Corridor that connects the rail terminal directly to the warehouses, streamlining the customs process for faster offloading and quicker distribution. Foreign Trade Zone status will afford users additional cost savings as well.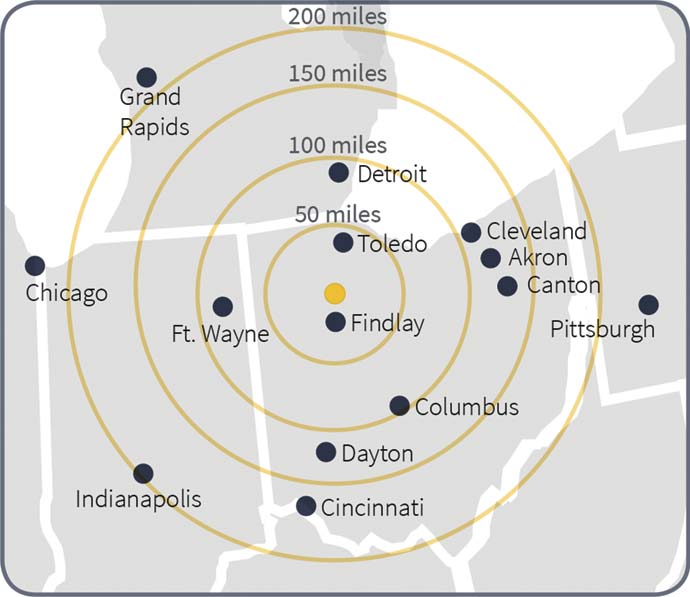 The community has been supportive with tax abatement incentives in order to make the 122-acre Wood County site more competitive. Trucks can reach Detroit, Chicago, Columbus, Cincinnati, Cleveland, Dayton, Pittsburgh and Indianapolis in a few hours or less from LPO.
"The timeframe for this project is immediate," notes Meyer. "The master-planning is done, and we plan to start on infrastructure this fall. We are currently working with a handful of prospective tenants to sign build-to-suit agreements for new facilities. Then we will build."
Meyer adds that leaders of RGP, North Baltimore, Wood County, JobsOhio and the Port Authority "have been very helpful. We are making a big investment to help large clients save money on their logistics and supply chain so they can bring more jobs to this area. The park will be successful when that happens, and we expect that to happen very soon."
---
This Investment Profile was prepared under the auspices of the Regional Growth Partnership. For more information, call 419-252-2700. On the Web, go to rgp.org.
Ron Starner
Executive Vice President of Conway, Inc.
Ron Starner is Executive Vice President of Conway Inc. He has been with Conway for 16 years and serves as editor of the TrustBelt Report and lead organizer of the annual TrustBelt Conference. He also writes extensively for Site Selection and Conway's Custom Content Publishing Division. His Twitter handle is @RonStarner.