(eLivingtoday.com) Between fun costumes and tasty treats, Halloween is one of the most anticipated nights of the year for many children. However, these precautions can be taken – by kids and parents alike – to help ensure an enjoyable, fun-filled time.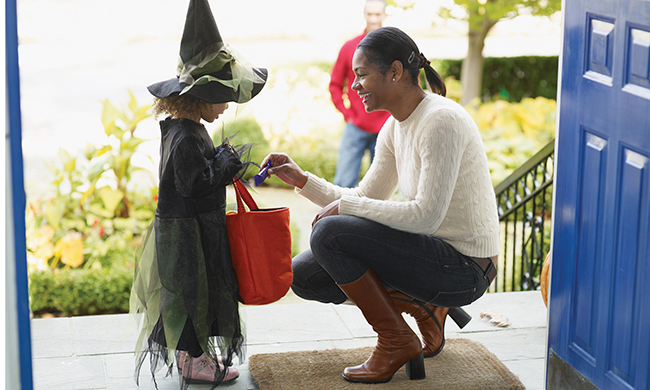 5 tips to help ensure a happy Halloween
Pick Proper Costumes
Before Halloween, choose a costume that doesn't pose safety risks. Look for costumes, wigs and accessories that are flame-resistant and flexible. Ideally, costumes will be bright and reflective. If not, add reflective tape to costumes or bags and provide glow sticks or flash lights. Make sure shoes fit properly and costumes are not too long to help prevent tripping, entanglement or contact with flames. Also consider non-toxic makeup and decorative hats as safer alternatives to masks, which can obscure vision.
Prep Your Home for Visitors
To ensure you're ready for trick-or-treaters, remove tripping hazards from your yard and porch, including hoses, bikes and other toys, and clear wet leaves, snow or other debris from the sidewalk. Make it known you're home by turning on your porch light; test it early and replace burnt out bulbs, if necessary, to ensure visibility. Also consider substitutes for sweets, which may contain ingredients some trick-or-treaters are allergic to, opting instead for more inclusive options such as stickers, coloring books, pencils, rubber insects or colored chalk.
Trick-or-Treat with Care
Regardless of the age of your children, some extra precautions should be taken before they go out in search of treats. Remind children to avoid trick-or-treating alone; walk in groups or with a trusted adult. If older children are going with a group of friends, plan and review an acceptable route and agree on a specific time for them to return home. Tell them to only visit homes with illuminated porch lights and always use direct paths, crossing the street at corners using sidewalks crosswalks. If there are no sidewalks, walk facing traffic and stay as far away from passing cars as possible.
Watch for Walkers
The risk for children being hit by cars is higher on Halloween than on any other day of the year, according to Safe Kids Worldwide. To help minimize that risk, slow down and be especially alert in residential neighborhoods – especially between the hours of 5-10 p.m. when most children are typically trick-or-treating – as excited kids may move in unpredictable ways. Take extra time to look for kids at intersections, on medians and curbs, and minimize distractions such as cell phones as much as possible.
Inspect Candy
Though tampering is rare, a responsible adult should closely examine all treats and discard spoiled, unwrapped or suspicious items once children return home. Teach your child to politely decline homemade items such as cupcakes, brownies and popcorn balls, and always read ingredient labels as many popular candies contain common allergens like peanuts, milk, eggs, soy or wheat.
Find more tips for a safe and fun Halloween at eLivingtoday.com.
SOURCE:
eLivingtoday.com